Solutions
for every
need.
klikit provides solutions for businesses to take control of their online, in-store, and delivery operations.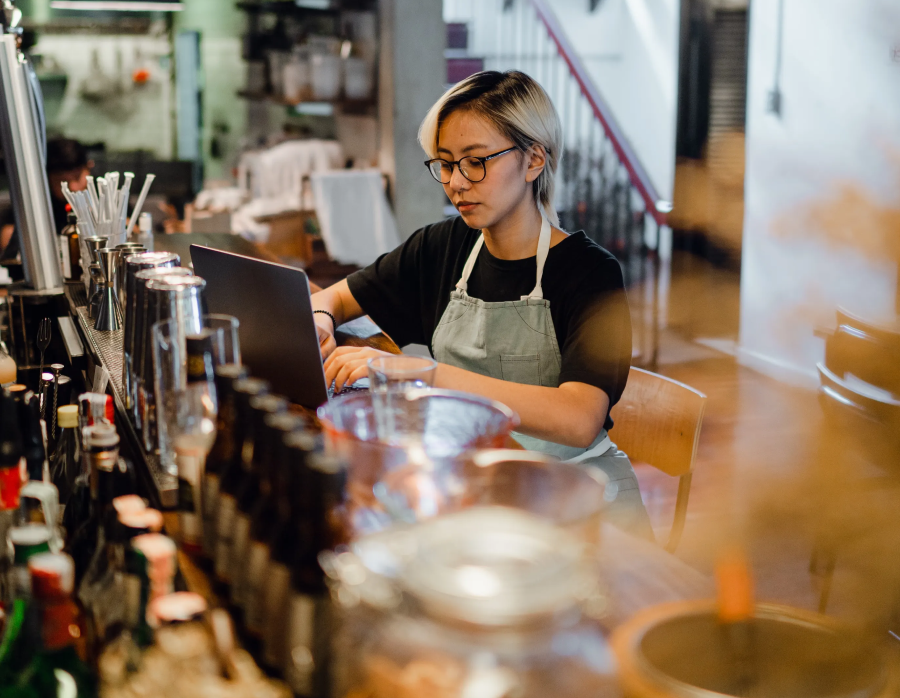 Instant menu updates
via API integrations.
Update menus 5040x faster in minutes vs. hours. Say goodbye to slow menu updates and risks of order errors & cancellations with klikit Cloud, a trusted API integration partner of leading providers like GrabFood, foodpanda, GoFood, and more.
Manage expectations
& stock availability.
Frustrated with multiple devices on your counters that increase clutter instead of efficiency? Manage all orders from every channel and provide staff with the all-in-1 tool they need to serve quality goods and service: klikit Cloud.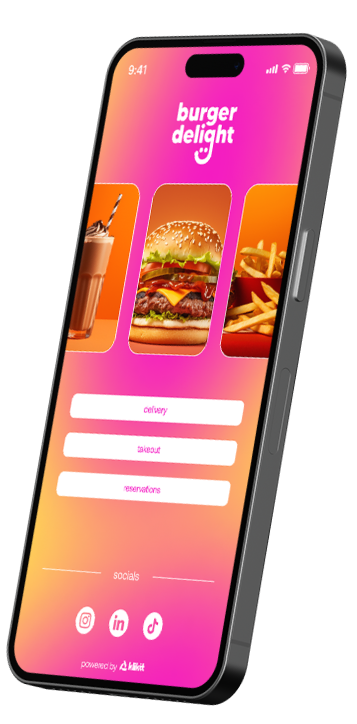 1 menu across all
locations & brands.
Only upload your menu once with klikit Cloud. Manage the Master Menu across different locations, even for multi-provider changes. Boost your other brands and earn more with Mix & Match Ordering, allowing check outs from different brands, all in 1 cart.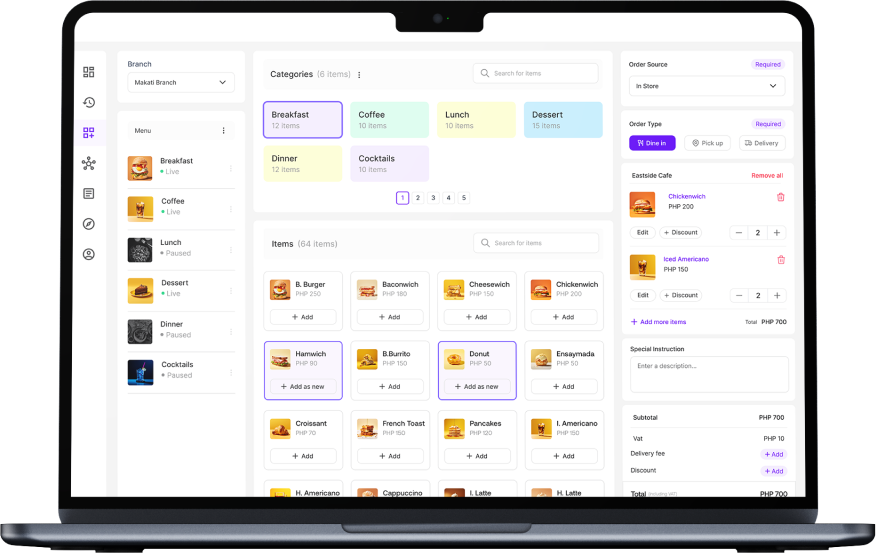 All your data
within your reach.
No need to manually search & tally data across all your providers. klikit Analytics summarizes business performance across locations, brands, and delivery providers — in just 1 dashboard.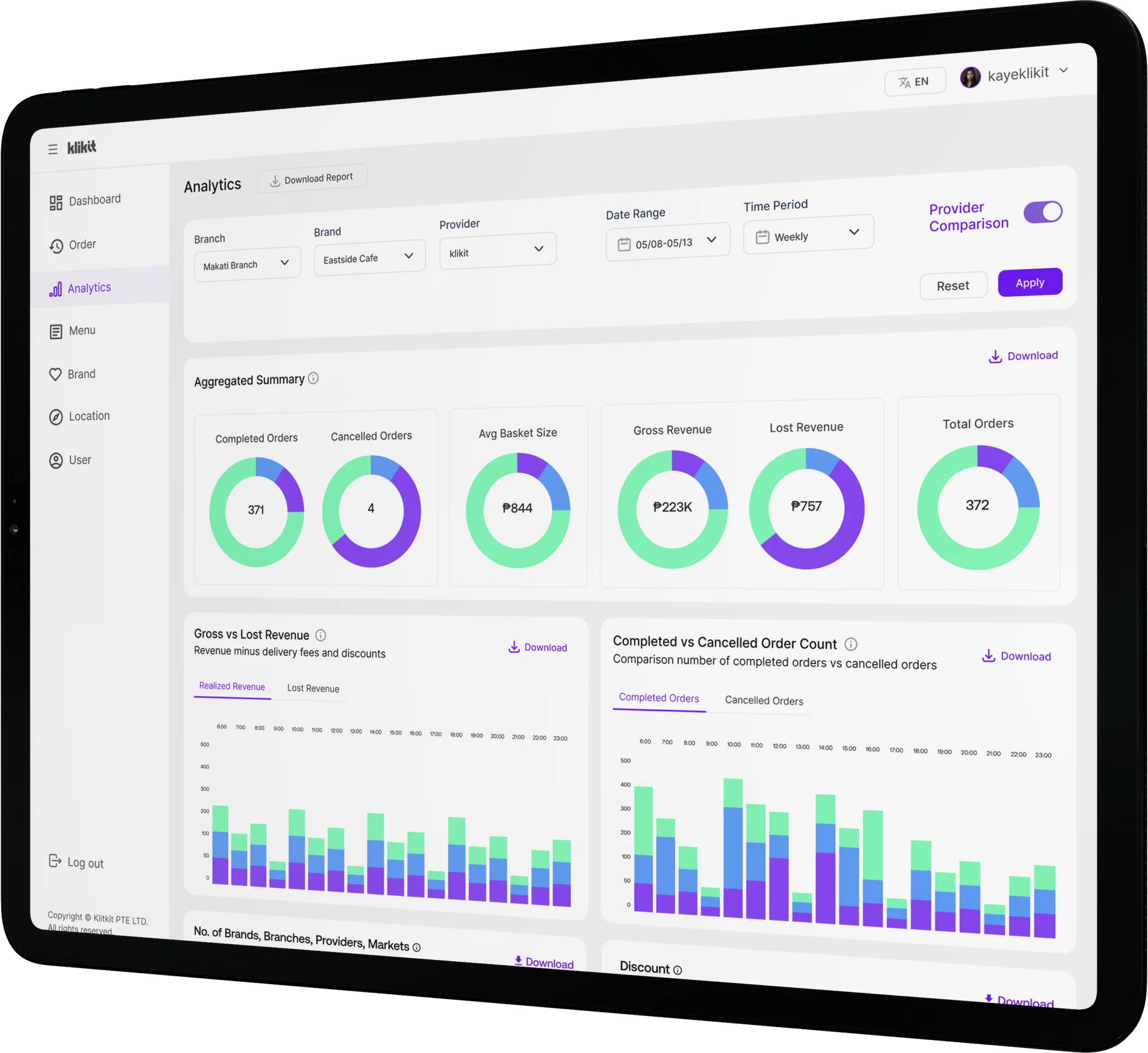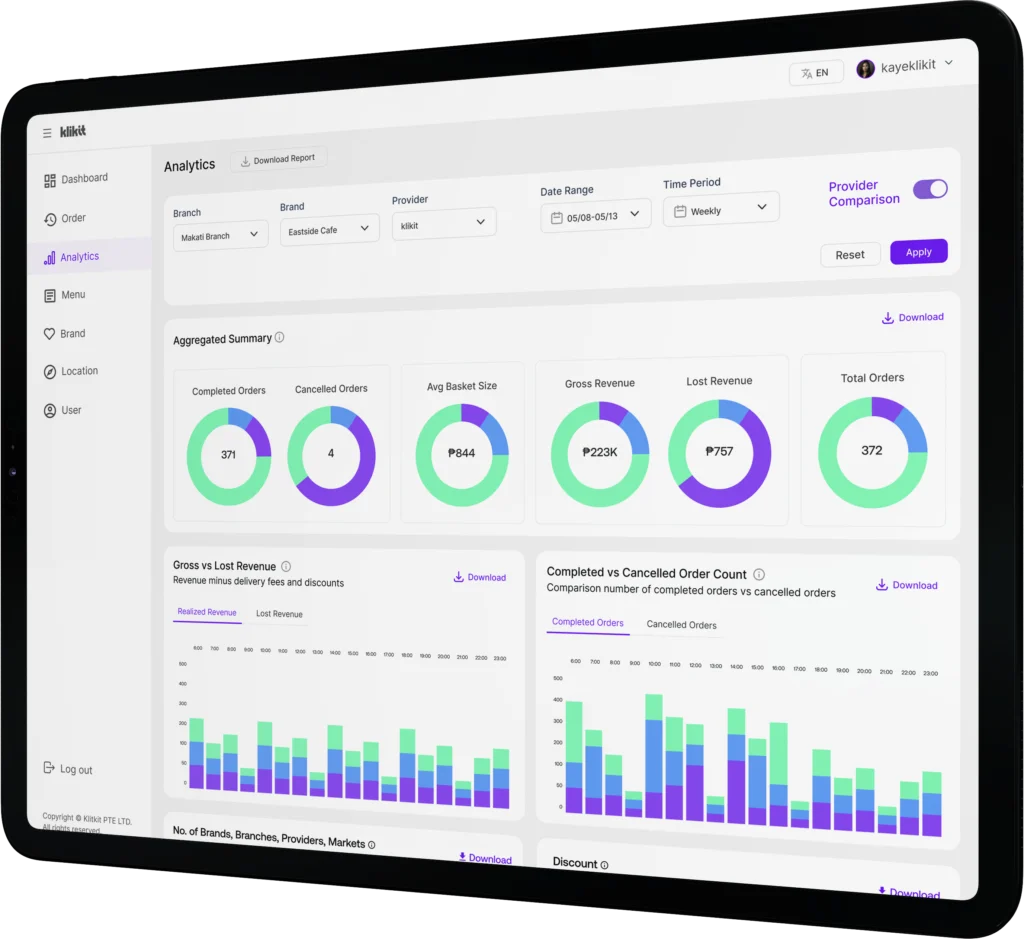 Save your staff from searching and tallying data across providers. klikit Analytics summarizes all the data into 1 dashboard. Filter through specific dates, times, and aggregators, to compare and track performance across brands.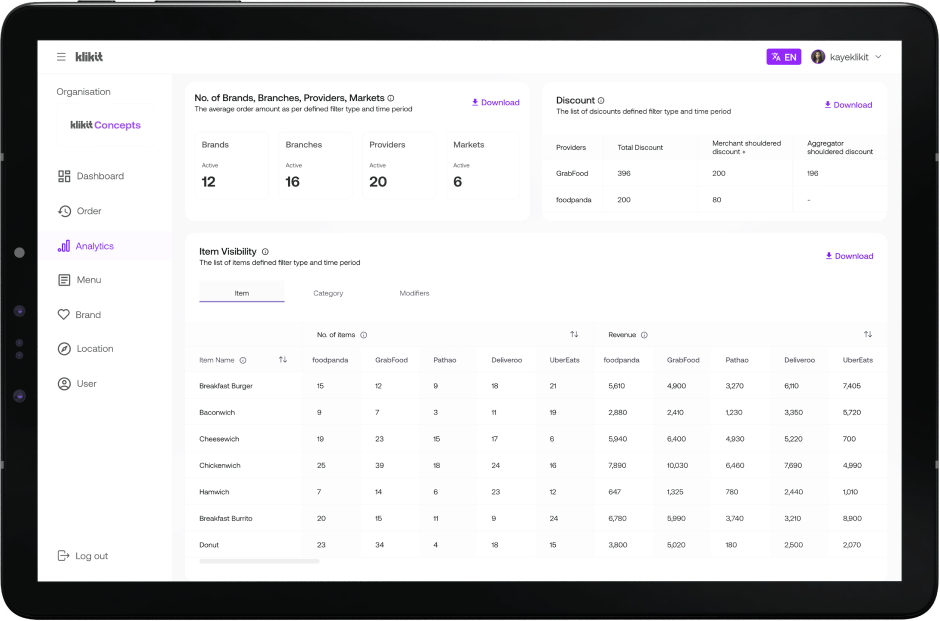 Update orders in
real-time with ease.
The klikit Cloud Order Dashboard filters orders by Status — new, ready, scheduled — so your staff can prep ahead. Busy during peak hours? The Pause Mode feature hides your visibility from online platforms so you can focus on in-store orders.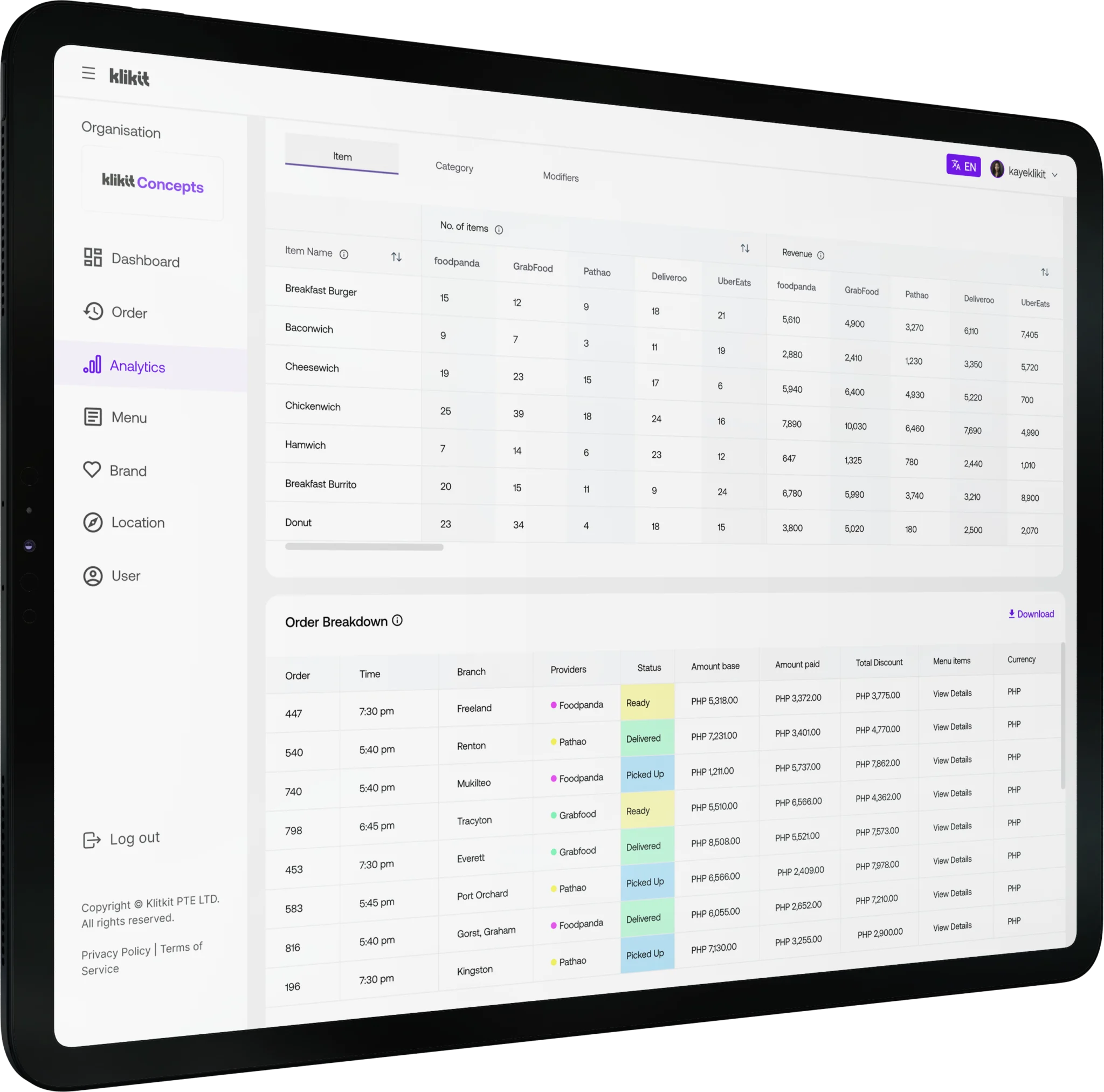 Stay in touch with customers.
Aside from quality products and service, sometimes people need an extra treat as motivation. Reward top customers and entice new ones, to keep everyone coming back for more, with klikit Rewards.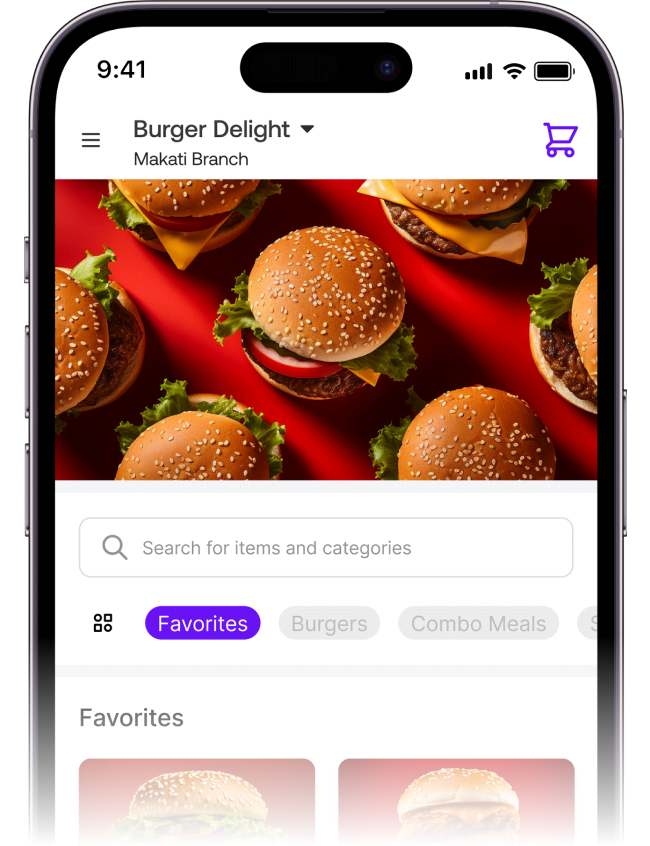 Recognize &
reward loyalty.
Gain insights from Customer Contacts to reward your customers, your way. Whether it's a free item after a certain order amount, a limited-time voucher, or email promotions, anything is possible with klikit Rewards.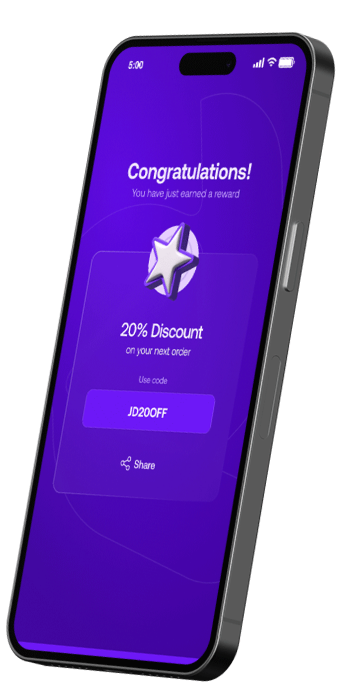 Make your customers feel heard.
Show your commitment to customer satisfaction with klikit Platform's Ratings & Reviews— see all your online feedback, reward top customers, and keep everyone coming back for more.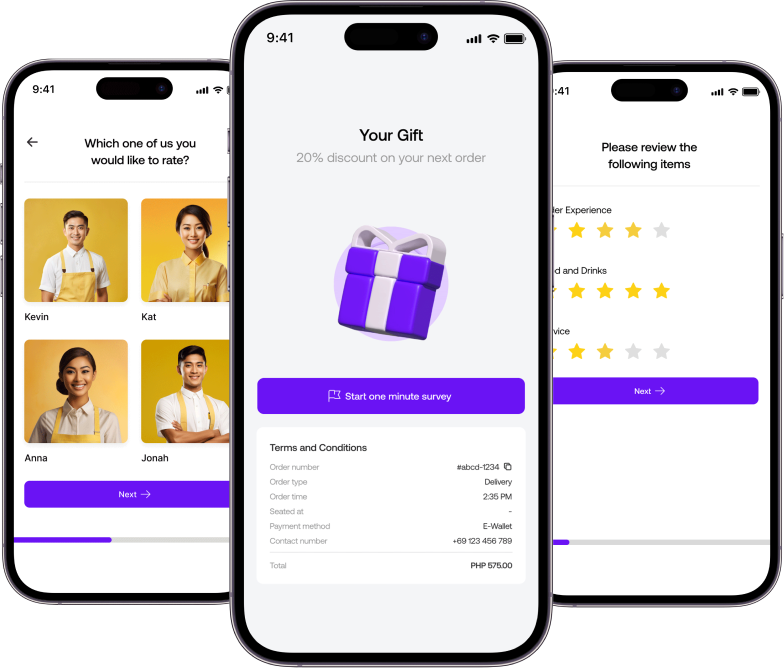 Enhance customer
dining experience.
Guarantee seats, reduce overcrowding, and accommodate special requests through klikit Reservation.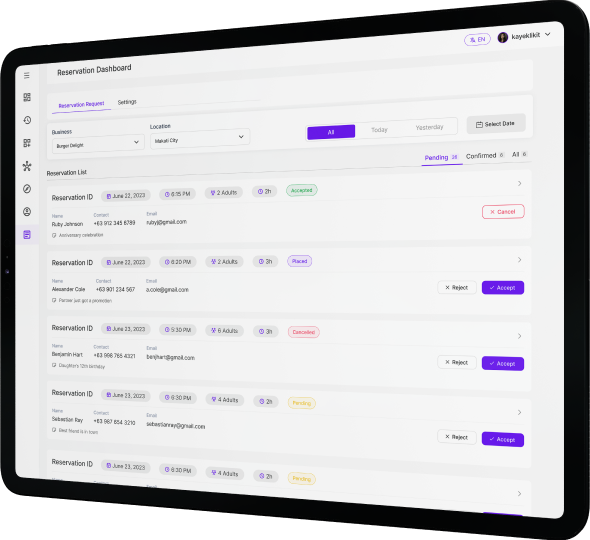 Let customers book anytime, anywhere.
Our seamless mobile flow allows customers to easily book a table at your place.
Keep your reservations link on your website, on your socials, or keep it handy for WhatsApp or Viber.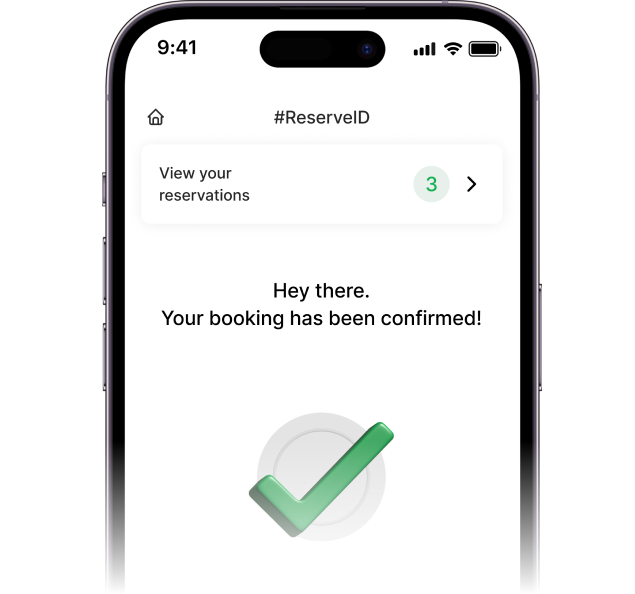 Seamlessly monitor &
manage all bookings.
Never miss a booking with klikit Reservation. Instantly get notified when customers book a reservation — and manage them with ease all in just 1 dashboard.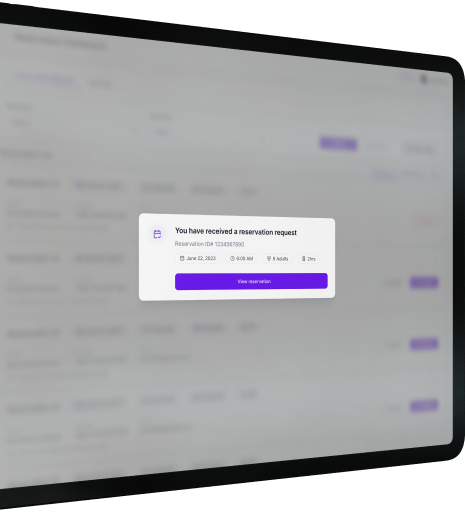 Witness the difference only klikit can offer.
Sync all your
channels to klikit.
Solutions for every need. Start free today.